Allbook Books is pleased to announce the publication of Call them home by Gregory Alexander, a book over 2 years in the making. This is his debut volume of poetry. His poetry has a stream of consciousness style... it is evocative like a dreamscape... texturally and imagistically rich... layered with both subtle and direct emotions and timely messages.
Sample poems and reviews below.
Cover art from an original oil painting:"Three apples and striped vase on Seurat" Copyright © 2013 by Helena Clare Pittman.
96 pages, 5.5 x 8.5", text printed on 100% recycled chlorine-free paper
Or, send check for $18 (includes shipping and NYS tax where applicable) to:
Allbook Books
PO Box 562
Selden, NY 11784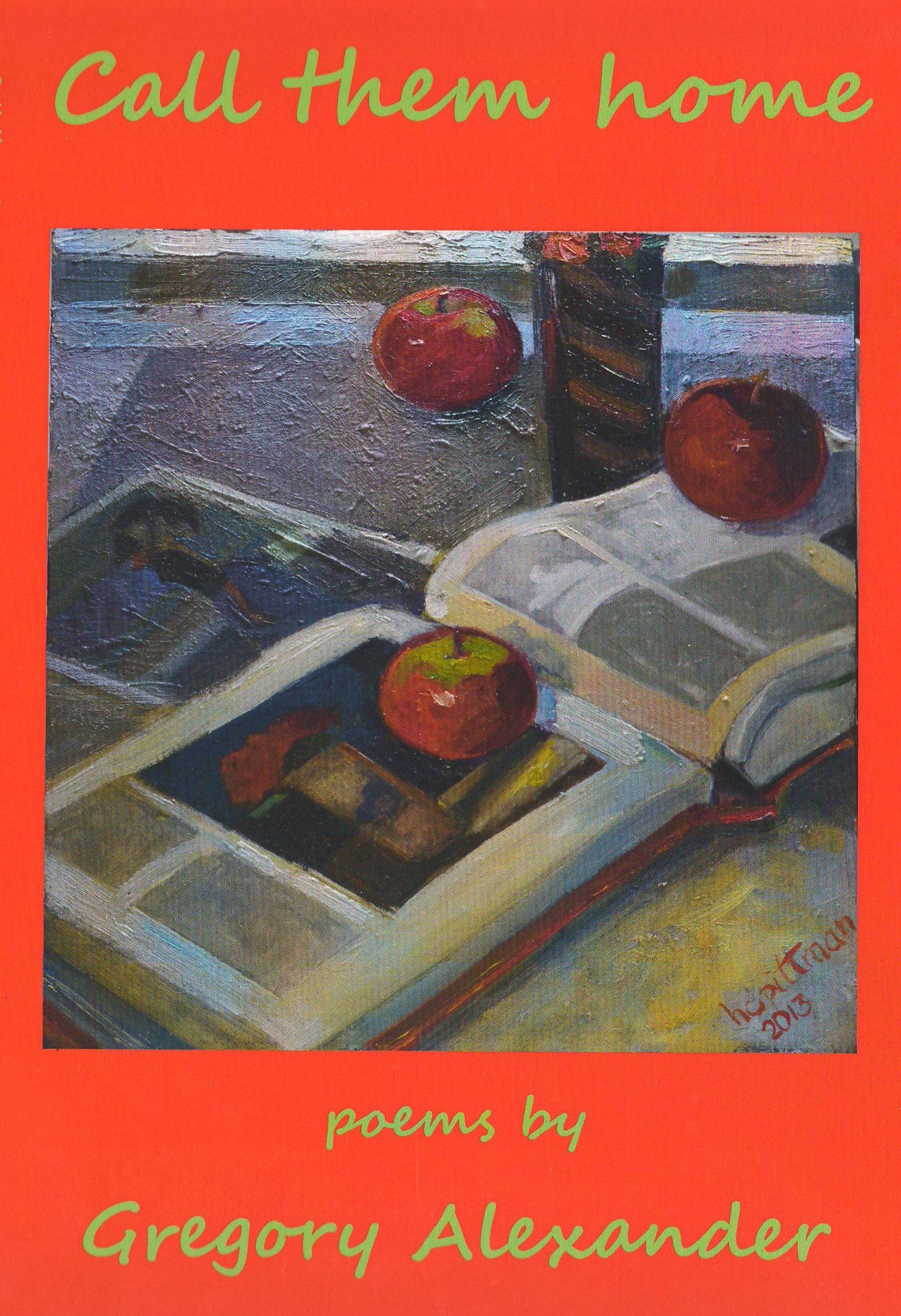 "If Greg Alexander's poems are new to you, then here is good news. After a long and successful career as a clinical psychotherapist, Greg has emerged in full force with a treasury of poetry. He searches from the human condition, art galleries to alcoves where the deepest emotions dwell. At one point, he asks, 'should I put out a missing persons' report to call me home?' [from "The drunken sailor"]. No need for alarm - - only trumpets to herald the emergence of a fine new poet." - Dr. David B. Axelrod, author/poet: www.poetrydoctor.org
"These poems are fresh, enticing, and musical. They move with a powerful flow of energy, emotion, and intelligence."
- Patti Tana, Walt Whitman Birthplace Poet of the Year 2009 and author of nine poetry books, most recently All I Can Gather & Give
"Here is a passionately sentient soul unraveling the inner landscape as he scrupulously explores the territories in which he finds himself alive. In his astonishing and conflicted worlds, the poet craves, demands, nothing less than unity--" one vessel like the grail of white gold again." (from "Hermaphrodite")
- Susan Windle, author of Through the Gates: A Practice for Counting the Omer
3 sample poems:
Call them home
Call the soldiers back to yourselves you
mothers who gave them birth rescue them
from the dream they've adopted
that is a bright dungeon promising glory
but bringing the face down in mud
legs and lips blown off
body riddled with trails of assault rifle bullets
they've forgotten how to let their souls speak
as once with you in warm home the current
passing between you and them
a fertile river your darlings call them
however you pray pray now
for the light between you to enlighten
an oval enclosing in its glowing hoop
bring them back to remember themselves

insulated iron men
call them
rouse by the bells of your voices
(unless you still believe the lie)
say the secret word the powerhouse exclamation
the electric verbs propelling back to where
their spark like a lantern renewed
grows again help them restore
minds from the foreign sway of unconsciousness
they are absolved when they answer
the call you supply from your sacred reservoir

the wars collapse like houses of cards
hollowed out buildings demolished by a breath
*****
Seer
after the painting "Pilgrim" by Giorgio de Chirico
I'm bound up
cries that could rush out in waves
muffled by my vest
hold myself hushed as morning before sun
to distill the silence
and capture motionless my white mind
I'm about to expound
angles of discovery
on the chalkboard
the tracings of my life's truths
but the road I traverse cannot be imparted
a mystery even and mostly to myself
nearby the Master in shadow awaits
my "Aha!" he will usher me onward
to a pebble and dust pathway
my legs in red tights
have been storing energy like batteries
I plan to run and run in stillness
until my forehead's signet star
blossoms with revelation
*****
The blob of light
after the photomontage "The Disconcerting Light" by E. L. T. Mesens
The blob of light
appeared one day on the avenue
amidst heavy traffic it became still
then slowly moved downtown
wouldn't hurt anyone
some didn't even realize
they were in it till they came
out feeling better than before
charged as a renewable battery
some saw it as luminous
after entering they reflected light
to others it seemed slightly
viscous because a slick film
stuck on their skin
traffic slowed and cars drove in
and left through a glowing tunnel
several stories high
it filled picture windows full
till they became like mirrors
to some it looked like a large eye
opening to wakefulness
many tinctures rayed from it
like a hide-and-seek rainbow
only some were called to see
and walk into it others felt slightly uneasy
as they made their rounds
a few seemed obsessed
dove inside its glow over and again
if you were called anywhere was a portal
for the pilgrim and inside its center
they said was a double helix flame
swirling with ethereal light
it sent a ramp into you that extended
into outer space some sensitive ones
became healers some were said to disappear
in its skyward surging then reappear
transformed
after it left
the whole city
felt it had sidestepped a plebian day
into an unending holiday
could so easily afterwards
be lifted up as if something molten
gushed in an updraft past
the tallest towers and brought you with it
then came to rest
we became open to one another
had this then become a sacred city?
******
© 2016-2018 Gregory Alexander.
Gregory Alexander has been a poet since the age of 13.
He studied English and World Literature at Middlebury
College, the University of California at Berkeley, and Columbia
University. He lived on the West Coast for 19 years, and
earned his doctorate in Counseling Psychology at the
University of Oregon in 1984. Since then, he has been living
on Long Island, New York, where he worked as a staff
psychologist in a Department of Veterans Affairs hospital for
25 years. He is currently in private practice.
Greg's father, Josef, was a composer, and his mother, Hannah,
was a published poet and his mentor. Greg has participated
in several Walt Whitman Birthplace Association master classes
in poetry on Long Island. He is married and has two grown sons.
Website © 2016-2018 Walter E. Harris III.